Socially Distant Personalized Notes (Free Printable!)
Posted by Ashly from Alice on Sunday on Sep 22, 2020
Hi! My name is Ashly (@aliceonsunday), mom, photographer, and blogger. I have loved My Sticker Face for a while now for the product's ability to customize any- and everything, to stretch those creativity muscles and to put a smile on someone's face; mine included but especially my kiddos.
We are living in weird times right now. If you picked up your kids from school one day in March and still haven't returned or you're working some crazy hybrid schedule or haven't seen your favorite people in a while, you know what I mean.
My kids are super social and losing most of the social aspects of their lives has been hard. Now, we stand outside and talk to our neighbors, participate in virtual playdates, and catch up with grandparents while they sit in their cars in front of our house. We are making the best of it.
I am a sucker for snail mail and personal touches and, to counter all some of the loneliness we have been feeling, I had an idea to create little notes for all of my family's special people. I was so happy that My Sticker Face wanted to be a part of this simple DIY. This is a great way to show someone you love that you're thinking of them and that, even though there may be social distance, they are still close to your heart.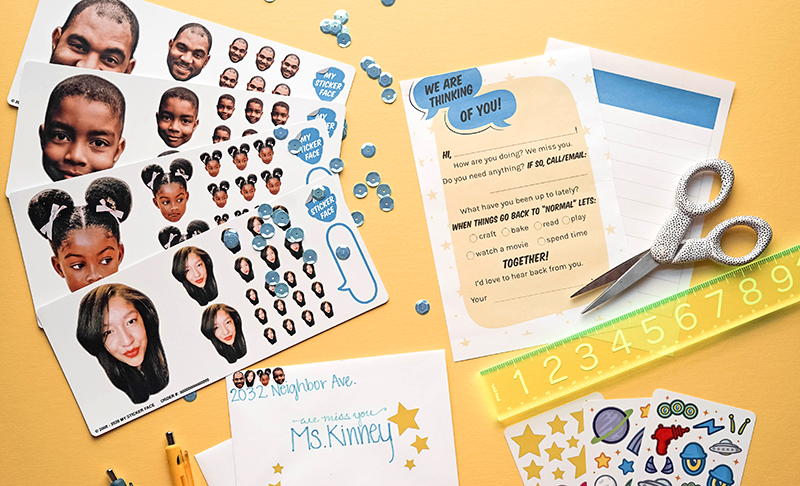 I know you're here for the DIY details so here we go!
What You'll Need:
• Thinking of You note template
• StickerFaces from My Sticker Face (I used these and these)
• Pen or Marker
• 2 envelopes per note
• Stamps
• Your favorite My Sticker Face accessory stickers (I love their stars and outer space stickers!)
• Optional confetti or sequins

How to Make:
1. Print out the Thinking of You template. (Download here.)
Make sure you are printing on the landscape/horizontal setting. You will notice that the printable has one side for you or your kids to fill out and another side that is a lined template left completely blank. That side is for the recipient to fill out once they get your letter.
2. Cut down the center of the paper to separate the two note cards.
3. Fill out your note!
You will notice that there is room to put your StickerFaces in addition to your name. This is what makes it fun and so sweet for whoever gets your note.
4. Stuff your envelope!
Place your filled out notecard, the blank notecard, a pre-stamped envelope, a few My Sticker Face accessory stickers, and a little confetti into your envelope.
5. Seal & Deliver!
The hope is that the person who gets your note will feel thought-of and loved and will want to write you back! In the age of Zoom sessions and virtual everything, a little handwriting and snail mail should be a nice boost in anyone's spirit!
If you send some personalized notes out, snap a pic and tag @mystickerface before sending them out! We would love to see it!
Until Next Time!
Ashly