Using Stickerfaces at a New Orleans Bachelorette Party
Posted by Dan Parenti on Jan 29th 2020
Let's face it; we all need a little more stickers in our lives.
There's nothing better than being able to take that favorite picture you love and memorialize it in the form of a sticker that you can literally stick everywhere! Stickers are something that absolutely everyone can enjoy. But I have to admit, my absolute favorite way to use this amazing creation was for my BFF's recent bachelorette party.
So here's the deal. It was only days before we were flying out to New Orleans for my gal's big bachelorette shenanigan when I was thinking about drinking (duh). There were going to be ten of us living in an Airbnb for five days; and let's be honest, I knew we'd be drinking like 99% of the time. And with that many of us in a house - no matter the size - it was pretty guaranteed we would be misplacing our drinks and forgetting who's cup was who's throughout the entire stay.
I mean, sure, you could just write your name on your solo cup and say that's good enough, but that's so boring. But then I thought, what if there was another way to personalize your cup so you or anyone else can identify it? That's where the stickers came into play. With just days before our trip to the Big Easy, I conjured up my favorite faces of every person that was going to be there and made a Sampler Sheet for every to have as their own (of course with some extras for the bride-to-be). And what's even better is that they're a piece of cake to pack with you! You can slip them into your carry-on, or pack them away with your luggage without hardly taking up any room.
Did I mention they are also great for your luggage tag? ;)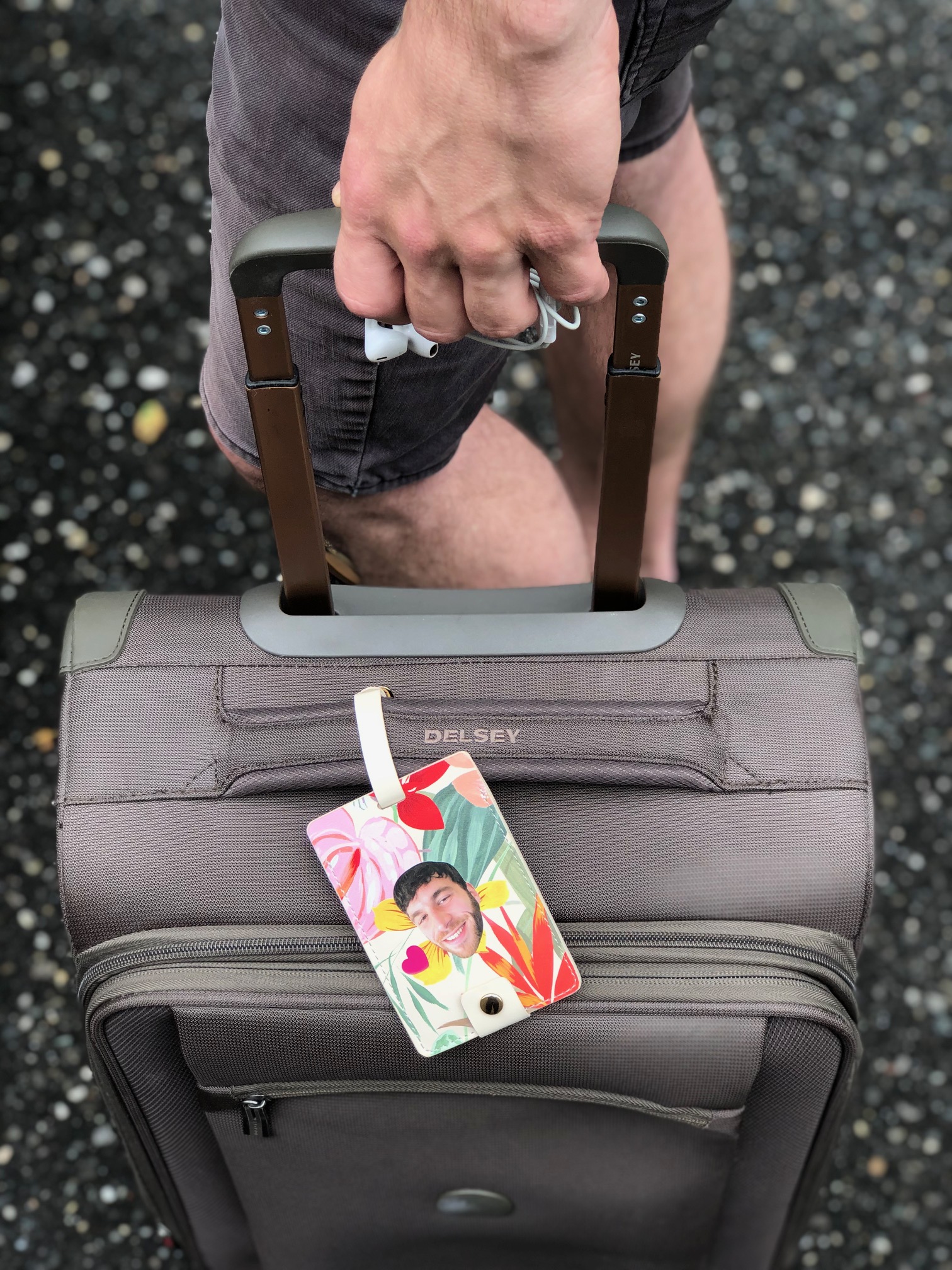 So when we arrived days later and threw our bags down into our new home for the next some-odd days, I unpacked the stickers and began distributing them out to their new respective owners. If I could've captured the look on their faces when they saw themselves as stickers, well that would say just about everything that I can't put into words!

Basically, they LIT UP. Before I knew it, everyone was plastering their sticker faces onto their reusable cups. Someone even had the bright idea of passing around each other's faces to decorate the rest of the cup with! We used the 3.5 inch or the 1.75 inch stickers of our own face to distinguish the cups from each other. But then we used the smaller .75 inch stickers of everyone else's face to make them even more fun! And I'll be the first to say, the results were ah-mazing. Take a look for yourselves!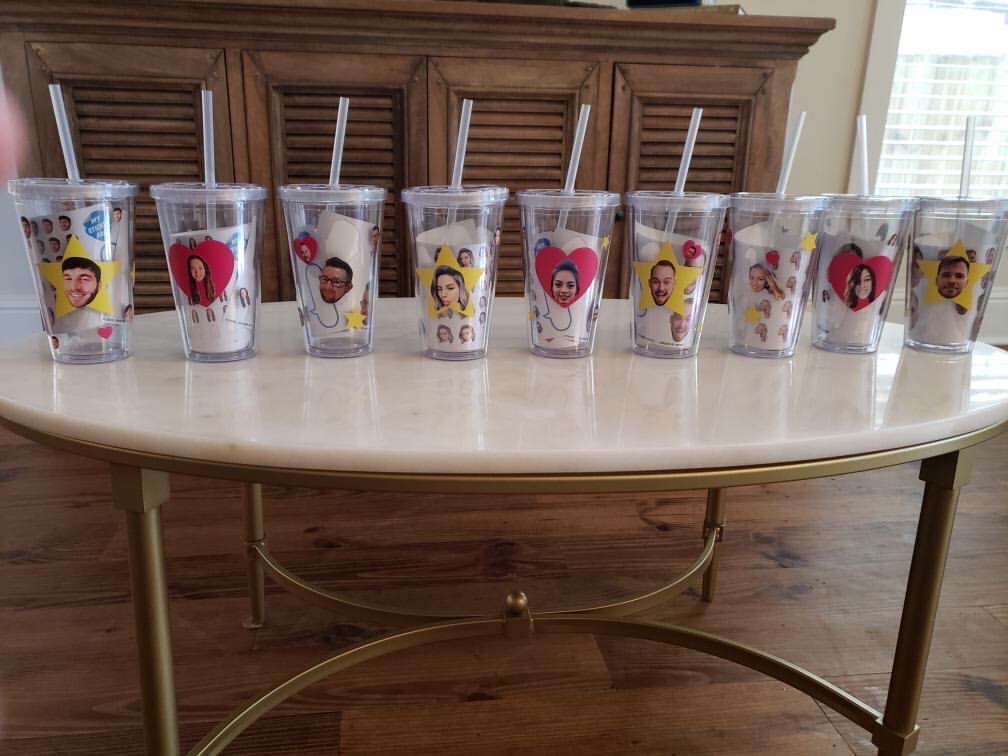 The other great purpose of these sticker-cups aside from being practical and fun, is that they were the best ice-breaker activity we could have asked for, especially since some of us didn't even know each other at all. What an introduction! After nearly a whole day of travel, we sure as hell weren't wired enough to paint the town red, but sitting around our living area with our mixed-drinks and stickering our cups was the perfect way to kick off an even more perfect bachelorette party!

By the time we had our very own personalized sticker-cups, we had all laughed enough to become quick best friends with each other. Like I said, win-win...and win! And what's even better is that since none of us wanted to be bothered with hand-washing our cups, throwing them in the dishwasher - stickers and all - was not a problem! They don't peel, nor wear in the dishwasher or the microwave. I speak for everyone when I say we love low-maintenance things in life.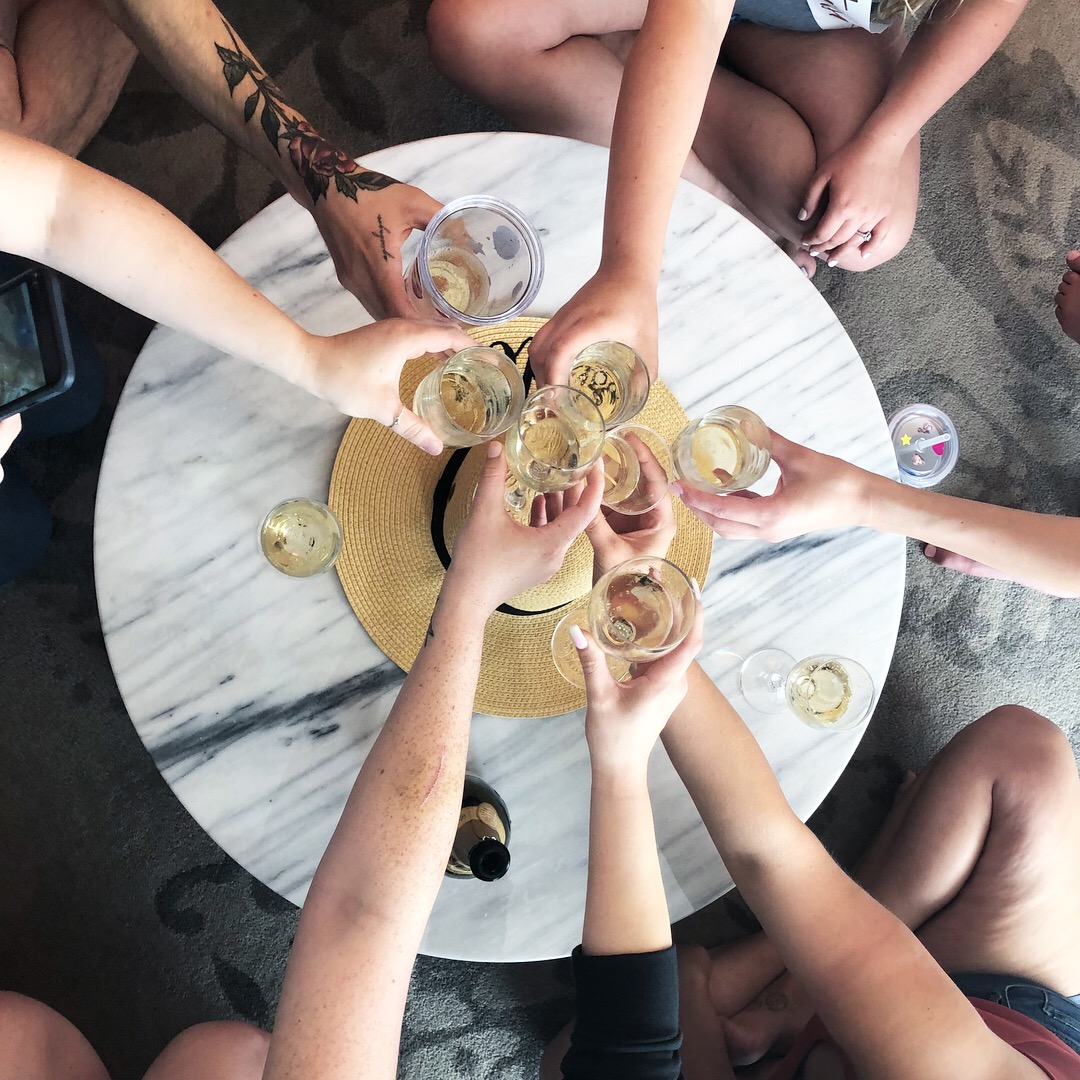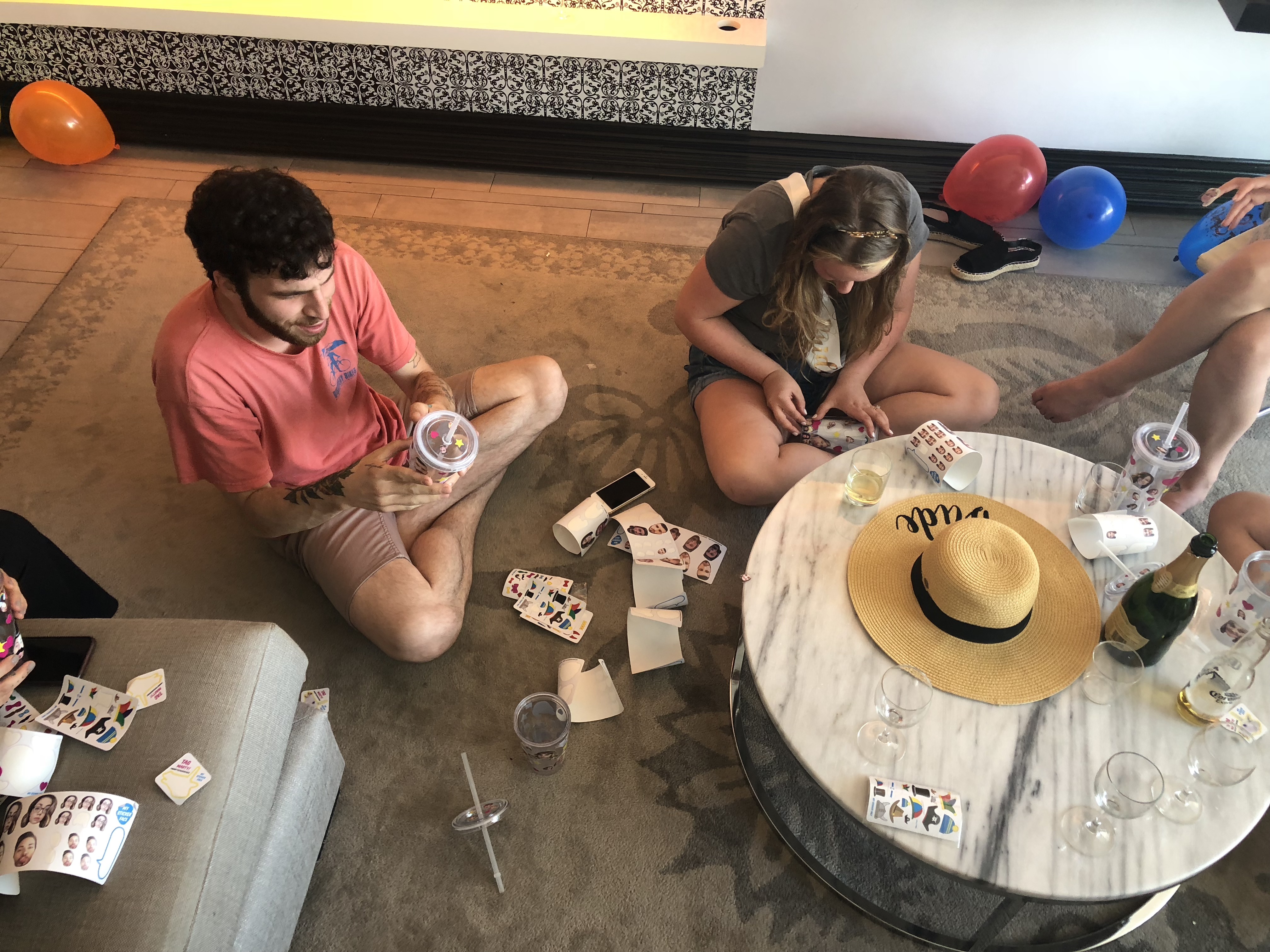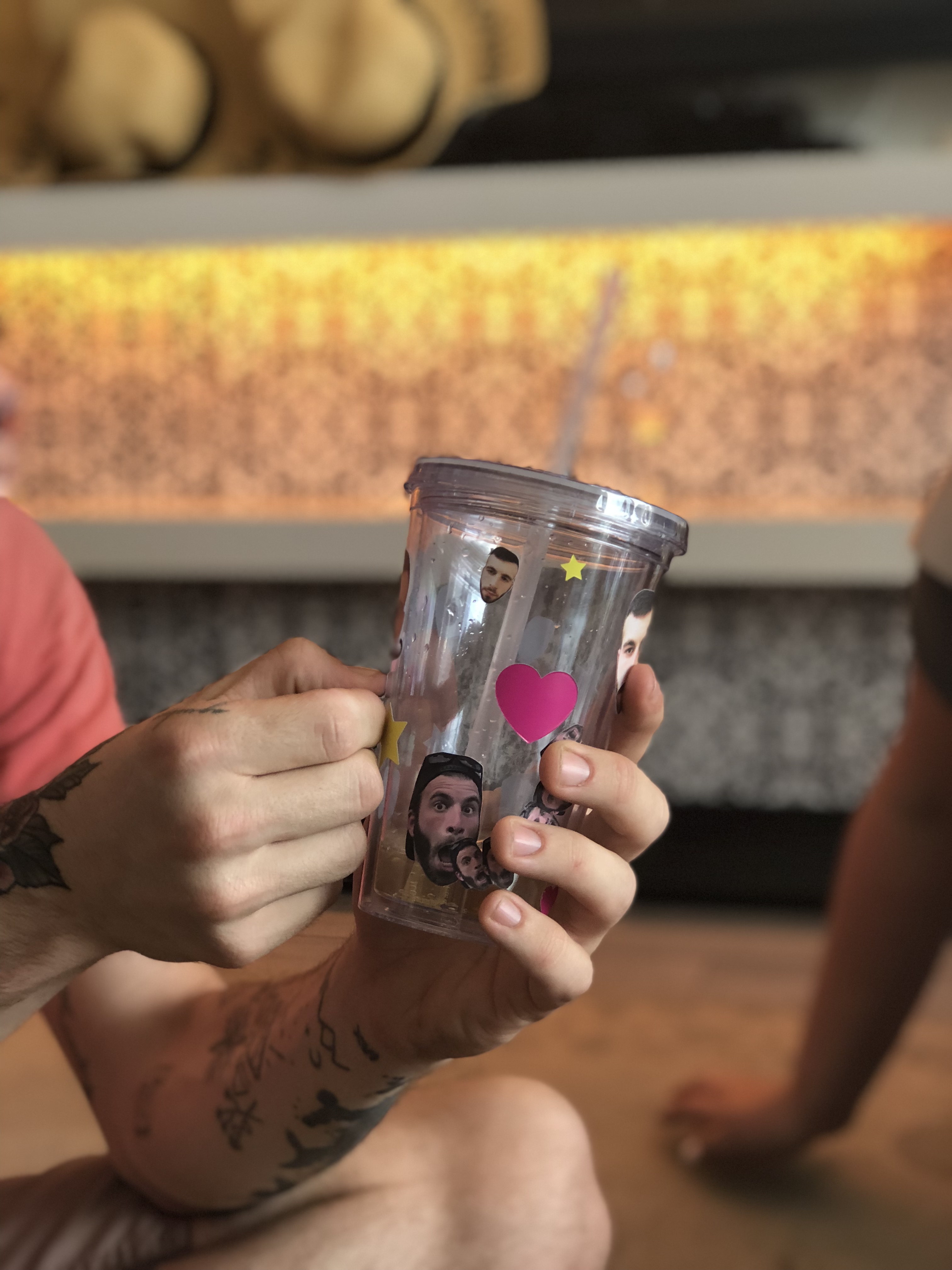 Now the last thing I have to say about this awesome idea (if I do say so myself), is that this was a perfect multi-purpose activity for everyone to share. Sure, it was fun, but it was also extremely practical. Identifying your drink is great, but so is limiting the amount of dishes you have to do while you're on vacation. Because of our sticker-cups (I'm coining this term right now), we weren't constantly going through the glasses in the cabinets, nor were we being wasteful by buying solo cups and tossing them away after every drink! Efficiency is key, people. And so is saving money by not having to buy throwaway cups. Plus, everyone got to take them home afterwards, so it's a real win-win!
So there you have it. Not only was our bachelorette party an absolute blast and success in every way possible, but it was also as efficient as we could have made it! With how hectic and expensive vacations in any form can be, it's always welcoming to have one less thing to worry about in the midst of everything else. You can officially rest easy knowing your sticker-cup has got your back. And my favorite thing is that I get to take ALL the credit for it. Hah!
Check our our Amazon "Party Weekend" Gift Guide to make your own!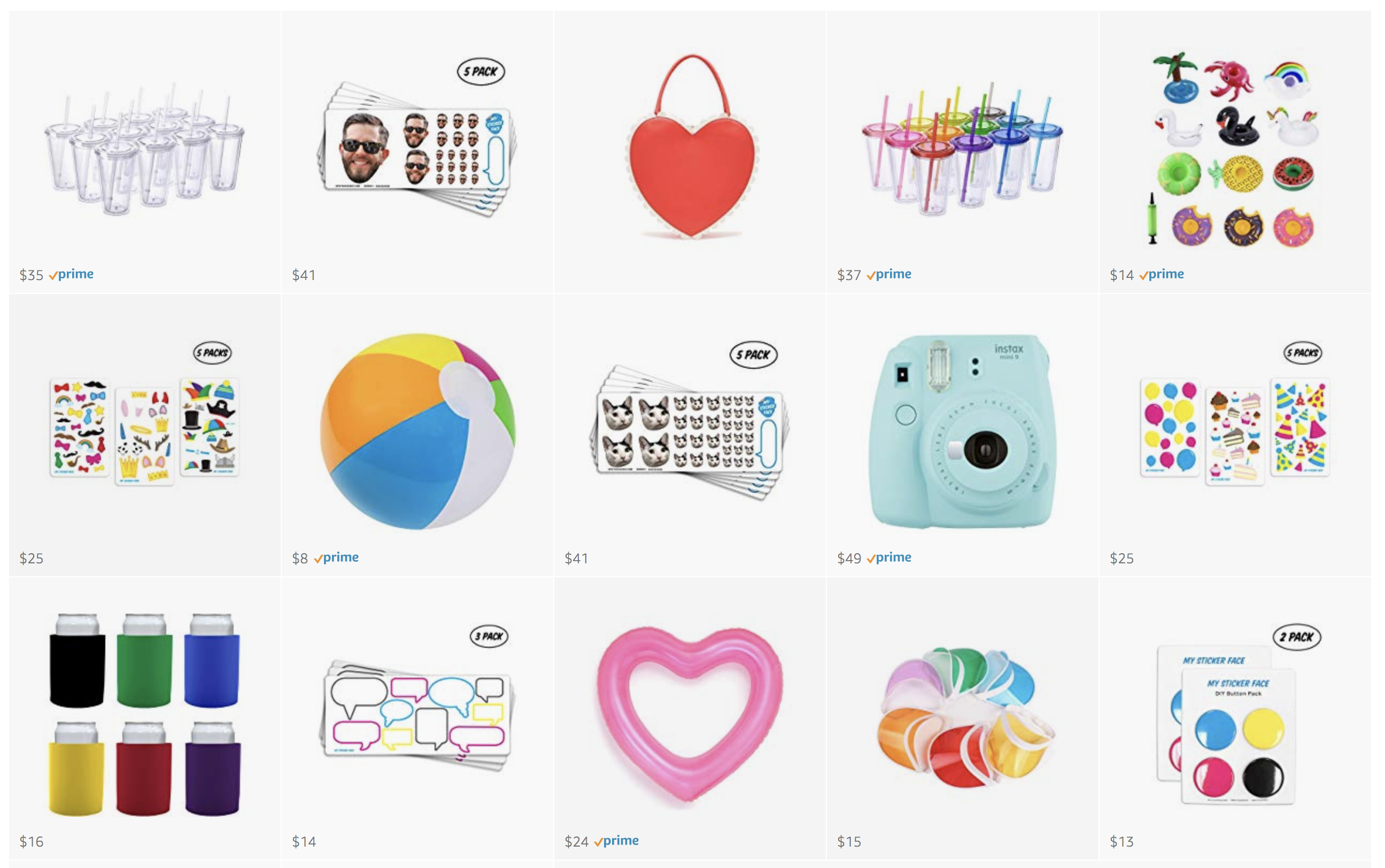 Remember to tag #mystickerface for a chance to be featured and receive 25% off your next order!